Great Ways for Realtors to Help Their Communities
Realtors are leaders in their communities. As a realtor, you're expected to get to know its citizens and become familiar with its homes, businesses, and economy.
Giving back to that community is not only a great business strategy, there's nothing better than showing your support for the area that you do business and live in. When a community supports you, it's fair and right that you give back.
Even if you have a busy schedule, there are many small ways to give back every day that only cost a few dollars or a few minutes and can make a big impact. There are even ways to give back to non-profit and community organizations while going about your daily business.
Here are some ways that you can commit to showing your support to people in need and emphasize your role as an outstanding and supportive leader in your town.

Charitable Agents
Charitable Agents is an organization created specifically for real estate agents. This is an organization where homeowners and realtors can partner together to make donations to dozens of nonprofits.
If you're on a budget, this option may not be for you, since 10% of your commission is allocated to a charity of your choice. But if you have some expendable income and want to give back through monetary donations, Charitable Agents is a great choice.
You can find out more about the organization here: https://www.facebook.com/charitableagents/
Givebackbox.com
This brilliant site allows you or a seller client to take any recent or new purchases and turn them into a way to give back.
After receiving new items from a major retailer like Amazon, you can take the box your items came in, fill them with gently used items either you or your client no longer needs and send it over the charity of your choice.
This company provides an easy and convenient way to give back without having to drive a lond way to drop off donations or pay for shipping.
Find out more about Give Back Box at http://givebackbox.com/
Organize a Donation Drive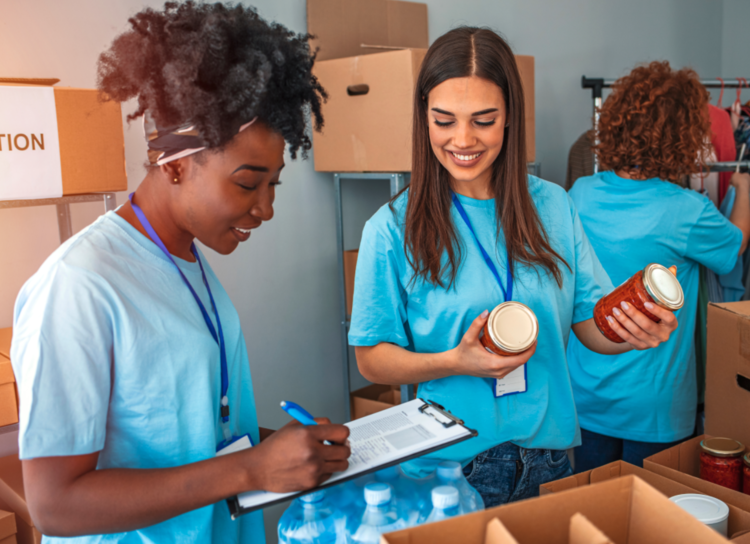 This is an especially great way to give back if you work in a large brokerage with lots of foot traffic or have co-workers that you can partner and organize with.
Pick a local charity that is in need of donations. Then, you can blast it on social media that you are looking for donations that people can either send or drop-off their items at a certain location and you will send over the items to the charity you and your team have chosen.
This is a perfect way to interact with followers on social media and show clients that you are actively giving back to those in need in your town.
Sponsor an Event for a Good Cause
Although there aren't many public events going on right now, whenever things return to normal, many charities will be excited to get back to hosting fundraisers. Sponsoring these events will allow you to publicly show your support for a great cause.
Many schools, animal shelters and rescues, other small non-profits host events to bring in more funds and sponsors make it possible for them to host these events. Sponsor ships are also mutually beneficial since you'll be able to network with potential clients.
Help at Your Local School or Church
If you have some extra time on your hands and need to find more clients - helping out at your local school or church is a great thing to do. Since these locations can often be pretty crowded and have a large population of community members coming and going, this is a great way to network.
You'll be able to help out while meeting new people and telling them about your business. Meeting people who are passionate about where they live is the fastest way to earn new business.
Volunteering in this kind of environment means that you'll stay busy. You may even find that you've met hundreds of new people by the end of the week and any number of them could become new clients!

Any volunteering is a great way to spend your time. Many agents have found that volunteering has been great for business and has helped them grow both personally and professionally.
Since realtors are often seen as community leaders, many expected to step up during the pandemic as there are so many people in businesses that are in need.
With rising unemployment and poverty, any steps that you can take to show support, will pay off. We all have to collaborate to get our towns back to business and thriving and we can only do this through the help of community leaders.